| | | |
| --- | --- | --- |
| Return after a day exploring either on or off the water, to a cold beer, a hearty home-cooked meal and a yarn amongst friends. Our rustic bar, with its eclectic decor and friendly staff, nestled between the mountains and the sea, is the perfect place to kickback and relax. | | |
| | | |
| --- | --- | --- |
| | | |
| | | |
| --- | --- | --- |
| | | |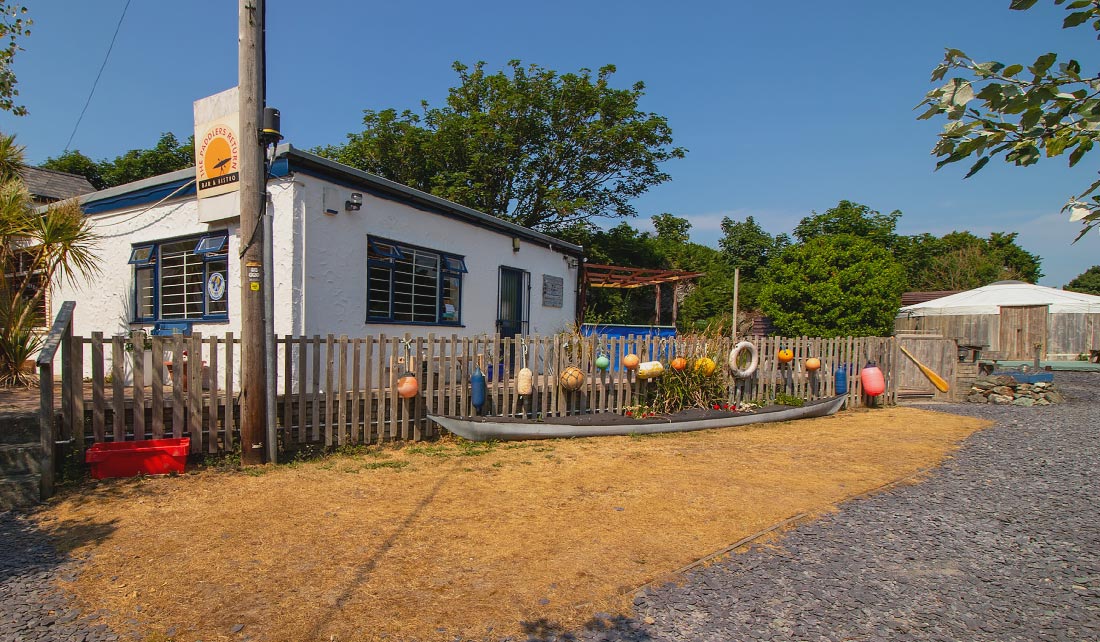 | | | |
| --- | --- | --- |
| | | |
| | | |
| --- | --- | --- |
| | | |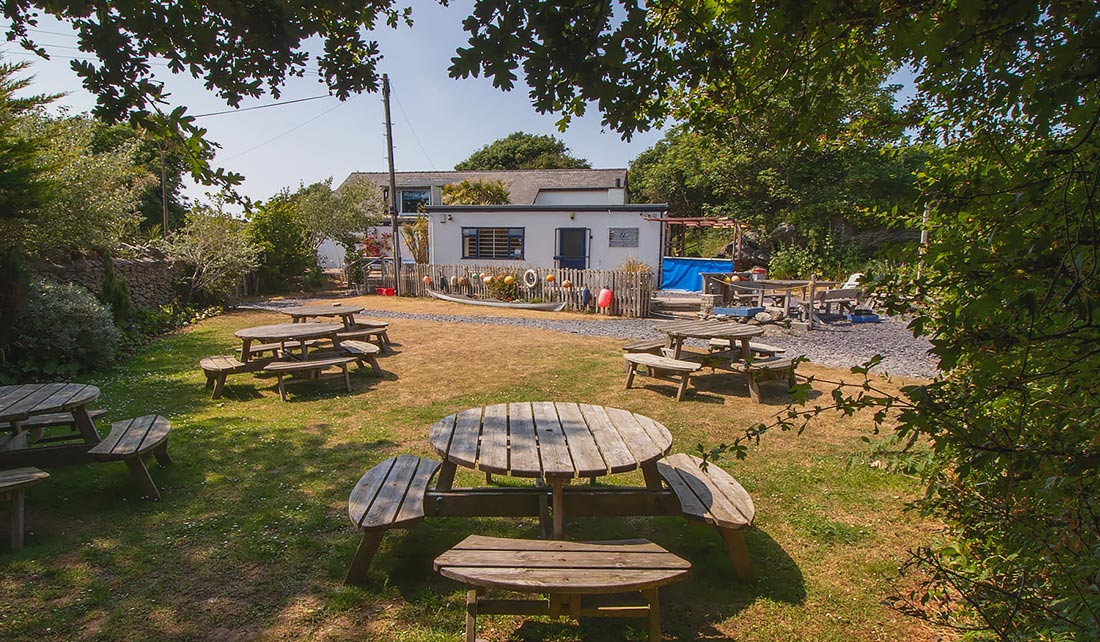 During the season we offer every evening our standard Menu (as below) and also a choice of our specials which incudes a soup, chicken, meat, vegetarian and fish of the day.
Bistro Menu
Available 5:30pm to 9:30pm
Check opening times/days below
Starters
Soup of The Day V


Served with a bread roll

£3.50
Sticky Bangers


Pork sausages in rich smoky dipping sauce with warm bread

£3.50
Smoked Mackerel Pate


With toast and salad garnish

£3.50
Sharing Platter


Warm breads with hummus & vegetable crudités

£5.00
Burgers
Choose from Chips or Paddlers Rustics (add a salad for £1.50)
Paddlers


6oz Rhoscolyn Beef Burger, smoked streaky bacon, mushrooms & cheese

£8.00
Mustafa


Moroccan flavoured Rhoscolyn Lamb Burger with apricots, pine nuts and minted yoghurt, served in flatbread

£8.00
Hunters


Chicken fillet with bacon, smoked cheddar cheese & BBQ sauce

£8.00
Veg Trio V
Mushroom, roasted pepper, griddled courgette in seeded wrap with mozzarella
(Please ask if you would prefer a vegan version)

£8.00
Main Courses
Sweet Potato Curry V


Spinach, chickpeas, rice & poppadom (half portion £4.75)





£8.50

Chicken Curry


With sweet potato, chickpeas and spinach, rice & poppadum (half portion £5.00)





£8.98




Wholetail Scampi


With chips and garden peas (half portion £5.50)





£8.95

10oz Gammon Steak


With egg or pineapple, chips and seasonal vegetable





£9.00

8oz Rhoscolyn Black Beef Rump Steak


With mushrooms and onions served with rustics and salad





£15.50
Try Something Different
See The Blackboard for today's Specials
Children's Meal
| | | |
| --- | --- | --- |
| Beef Burger, Chips and Salad | | £4.95 |
| Fish Fingers, Chips and Peas | | £4.95 |
| Chicken Nuggets, Chips and Peas | | £4.95 |
| Pitta Bread Pizza, Chips and Salad V | | £4.95 |
| Cheesy Pasta with salad V | | £4.95 |
Includes either ice lolly or choc ice cream for dessert and a soft drink



Side Orders V
| | | |
| --- | --- | --- |
| Bowl of Salad | | £1.80 |
| Coleslaw | | £1.00 |
| Blue Cheese | | £0.75 |
| Saute Mushrooms | | £1.20 |
| Fried Egg | | £0.70 |
| Onion Rings | | £1.60 |
| Bowl of Chips | | £2.10 |
| Sweet Potato Fries | | £2.50 |
| Garlic Bread | | £2.45 |
| Naan Bread | | £0.60 |
Dessert
Paddlers Chocolate Brownie


Made with Gunness and server with cream

£4.00
Morgan Spiced Bananas


Cooked with sugar and rum served with ice cream

£4.00
Ice Cream


Chocolate chunk, vanilla, honeycomb, strawberry, mint chocolate, Raspberry Ripple. (Per scoop)

£0.80
Drinks
| | | |
| --- | --- | --- |
| Mug of Tea | | £1.00 |
| Herbal Tea | | £0.70 |
| Cappuccino | | £1.90 |
| Latte | | £1.90 |
| White Coffee | | £1.90 |
| Espresso | | £1.50 |
| Lungo | | £1.50 |
| Americano | | £1.50 |
| Mug of Hot Chocolate | | £1.00 |
| Paddlers Hot Chocolate | | £1.80 |
"What a fantastic place!!"
We decided to eat here after seeing the good reviews on Trip Advisor. We were not disappointed! The lady that worked there was welcoming as soon as we walked in. They even had a hand pulled beer on which was in very good condition. The menu was good and had some lovely dishes on it. Our food was gorgeous and for 3 adults and 2 child's meals. It was only £40! We will certainly be returning.
Reviewed by Andy M from Northwich - 4th July 2017
"What a find!"
Recently made a few visits here, whilst camping close by! A very quirky and unique place. Great food and drinks, at very good prices! Perfect place, after a day out exploring the coastal paths!
Reviewed by Dean B from Cheshire - 19th June 1017
"Friendly place with great food"
The Paddlers is a brilliant place for friends or family to gather. Loads of games,good selection of drinks and excellent,well priced food. Staff are always friendly and welcoming,it's well worth a visit.
Reviewed by Alex F (location unknown) - 20th April 2017
"Couldn't recommend this place enough"
Definitely a hidden gem for all ages. Theres a variety of drinks that will suit everyones taste, a pool table and plenty of card/board games for entertainment and the staff and even other customers were very friendly. We had the paddlers burger and rustic chips and the gammon and egg. The portions were generous and the burger was clearly homemade and very tastey and reasonably priced. We will be returning on our next visit to Anglesey!
Reviewed by Clare E (location unknown) - 16th April 2017
"Social hub"
A friendly little bar serving good food and cold beer. What more could a person asked for? Based on the Anglesey Outdoors site it offers a friendly place to chill after a busy day of outdoor activities or just exploring the beautiful Island of Anglesey.
Reviewed by Karen B (location unknown) - 10th April 2017
"Perfect"
Coming from a University, I'm used to cheap drinks and was very much expecting the worst in prices from a small place like this. Oh how wrong I was. At £3.20/3.25 for a pint of Thatchers, I could never complain (I ended up paying £4.80 in the Lake District).
Reviewed by Peter E (location unknown) - 8th April 2017
"Quality Grubb"
Spent long weekend at centre and booked a meal at the restaurant, has the best food of the weekend there and the prices were good.
Reviewed by Byron D (location unknown) - 30th January 2017
"I will definitely go back!"
Excellent food and service. Food was full of flavour and a good amount for the money paid... Definitely worth a visit and if I'm in the area again I will definitely go back! :)
Reviewed by Taylor2423 - 28th September 2015
"Never disappointed"
Over and over and over again, we return. Never disappointed, always more than satisfied constantly looking for an opportunity to recommend and share this gem of an eatery
Reviewed by kasa898, Manchester - 19th August 2015
Paddlers Opening Times
During the season the Paddlers is open every evening. Out of season, please check the calendar below for opening times.
Quick Contact
The Paddlers Return
(Anglesey Outdoors Centre)
Porthdafarch Road, Holyhead, Anglesey, LL65 2LP
OS Grid Reference:
SH 23787, 80706
Latitude, Longitude:
53.29, -4.64

Facebook Activity